Til Schweiger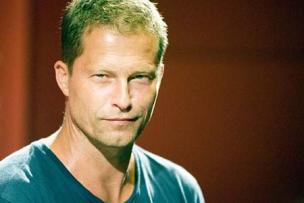 Source: DIF, Photo: Michael Löwa
At the reopening of the Deutsches Filmmuseum in Frankfurt, August 12, 2011
Biography
Tilman Valentin Schweiger was born December 12, 1963 in Freiburg. He began to study medicine in Cologne, but quit soon. After studying German and working as a waiter and discjockey he decided to become an actor. Three years of actor's training at the school of the theatre "Der Keller" in Cologne followed, then he first played in Bonn at "Contra-Kreis-Theater".

From 1991 on Schweiger played Jo Zenker in the TV-Series "Lindenstraße" – a role which made him popular despite its sporadic appearances. Then Schweiger was discovered by Bernd Eichinger who casted him for his action comedy "Manta, Manta", followed by his second role in a feature film: as amateur boxer Rudy in "Ebbies Bluff" (1993) he was awarded Max Ophüls Price for best young actor. From 1994 on he played the assistant to Hannelore Elsner in the TV crime series "Die Kommissarin".

The huge success of Sönke Wortmann's comedy "Der bewegte Mann" ("Maybe, maybe not", 1994) after the cartoon by Ralf König, in which Schweiger played the heterosexual Axel in homoerotic turbulences made him a real star and also a sex symbol. In the following years he played in Lars Becker's "Bunte Hunde" ("The Break", 1995) and Detlev Buck's "Männerpension" ("Jailbirds", 1996). In spring 1996 he founded the production company "Mr. Brown Entertainment" together with Thomas Zickler and André Hennicke. Their first feature film was the crime comedy "Knockin' on Heaven"s Door" (1997) by newcomer director Thomas Jahn which turned out to be an enormous success.
In the following years Schweiger was also seen in international productions like "Bastard" with John Hurt and in a small role as a killer in "The Replacement Killers" by Antoine Fuqua. His debut as a director followed in 1998 with the comedy "Der Eisbär" ("The Polar Bear", 1998) about two killers in trouble – one of them played by Schweiger.
Besides his roles in German films as different as "Der große Bagarozy" ("The Great Bagarozy", 1999), "Bang Boom Bang" (1999), "Agnes und seine Brüder" ("Agnes and his Brothers", 2004), "Wo ist Fred" ("Where is Fred?", 2006) and "Far Cry" (2008) Schweiger played more and more roles in American films like "Driven" (2001), "Lara Croft Tomb Raider: The Cradle of Life" (2002) or "King Arthur" (2003). His next film as director was the romantic comedy "Barfuß" (2005). Again he played a main role alongside Johanna Wokalek.
With the romantic comedy "KeinOhrHasen" ("Rabbit Without Ears", 2007) that again saw him as director, producer, author, and leading actor, Schweiger celebrated a huge box office success in 2007: The film about a cynical gossip reporter who falls in love with a sensitive kindergarten teacher (Nora Tschirner), attracted more than six million viewers to the movie theatres.
In late 2008, the star-studded knight movie parody "1 ½ Ritter – Auf der Suche nach der hinreißenden Herzelinde" ("1 ½ Knights – In Search of the Ravishing Princess Herzelinde"), Schweiger's fourth film as a director, opened in German theatres. At the same time, Schweiger starred in Quentin Tarantino's war film "Inglorious Bastards" that opened in cinemas in 2009.

Again with himself and Nora Tschirner in the leading roles he directed the sequel to "Keinohrhasen" in 2009: "Zweiohrküken" ("Rabbit Without Ears 2"). In the same year he was part of the ensemble of "Männerherzen" ("Men in the City"), directed by Simon Verhoeven. His next work as director was the comedy "Kokowäh", once again with himself but also with his little daughter Emma Tiger in the leading roles.
Filmography
2013/2014
KeinOhrHasen 3
Director, Screenplay, Producer
2012/2013
Willkommen in Hamburg
Cast
2012/2013
Kokowääh 2
Cast, Director, Screenplay, Co-author, Editing, Producer
2012
Schutzengel
Cast, Director, Co-author, Editing, Producer
2012
Grossstadtklein
Producer
2011/2012
War Below Zero
Cast, Producer
2010/2011
Männerherzen...und die ganz ganz große Liebe
Cast
2010/2011
Kokowääh
Cast, Director, Screenplay, Producer
2010/2011
Die drei Musketiere
Cast
2009
Zweiohrküken
Cast, Director, Screenplay, Producer
2009
Inglourious Basterds
Cast
2008/2009
Männerherzen
Cast
2008/2009
Wüstenblume
Co-Producer
2008
1 1/2 Ritter - Auf der Suche nach der hinreißenden Herzelinde
Cast, Director, Producer
2007/2008
Far Cry
Cast
2007-2009
Phantomschmerz
Cast, Co-Producer
2007
KeinOhrHasen
Cast, Director, Screenplay, Producer
2006/2007
Der Bodyguard - Für das Leben des Feindes
Cast
2006/2007
One Way
Cast, Producer
2006/2007
Video Kings
Cast
2006-2008
Der Rote Baron
Cast
2006
Oh, wie schön ist Panama
dubbed by
2005/2006
Wo ist Fred!?
Cast
2005/2006
Liebling, wir graben Harry aus!
Cast
2004/2005
Barfuss
Cast, Director, Screenplay, Editing, Producer
2004
Die Daltons gegen Lucky Luke
Cast
2004
Agnes und seine Brüder
Cast
2003/2004
(T)Raumschiff Surprise - Periode 1
Cast
2003/2004
Erbsen auf halb 6
Co-Producer
2002-2004
In Enemy Hands
Cast
2001/2002
Joe & Max
Cast
2001
Was tun, wenn's brennt?
Cast
2000-2002
Auf Herz und Nieren
Editing, Producer
2000
Jetzt oder nie: Zeit ist Geld
Cast, Producer
1998/1999
Bang Boom Bang - Ein todsicheres Ding
Cast
1998/1999
Der große Bagarozy
Cast
1998
Der Eisbär
Cast, Director, Producer, Co-Producer
1996/1997
Bastard
Cast
1996/1997
Knockin' On Heaven's Door
Cast, Screenplay, Producer
1996
Das Mädchen Rosemarie
Cast
1996
Die Halbstarken
Cast
1995/1996
Das Superweib
Cast
1995/1996
Männerpension
Cast
1994/1995
Bunte Hunde
Cast
1994
Der bewegte Mann
Cast
1994
Lemgo
Cast
1994
ABS Serienmäßig
Cast
1993
Schatten der Vergangenheit
Cast
1992/1993
Ebbies Bluff
Cast
1991
Manta Manta
Cast