Liebling, wir graben Harry aus!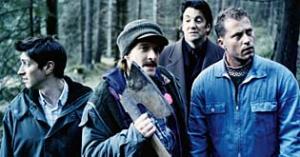 Quelle: NFP, DIF, © NFP/Detlef Overmann
Iddo Goldberg, Bela B. Felsenheimer, Tim Dutton, Til Schweiger (v.l.n.r.)
Inhalt
Bye Bye Harry

Emma and Ian used to be together, and if only Emma hadn′t been so impulsive, and Ian hadn′t always come up with crazy get-rich-quick schemes, who knows, they′d probably still be a couple! For the moment they′re back together since Ian claims to have a buyer for the classic Jaguar that Emma has poured all her savings into. Ian is convinced that if he strikes it rich, he′ll win Emma back.
On the way to the mystery buyer, Ian plans to visit his brother Stuart and sister-in-law Sophie at their country chalet. Ian wants to show his brother, who′s always mocked his harebrained schemes, that he′s finally going to make it. Unfortunately, he only makes it into a tree, since he lost control of the Jaguar and flipped over. To get the car back onto the road and running again, Stuart calls on two Moldavian goons. The good news: they get the car down from the tree. The bad news: they totally wreck it in the process...
Ian has to come up with another idea to make money. How about kidnapping the corpse of famed comedian Harry Hackett, who just died, and demanding a ransom? No sooner said than done. The only thing is, Stuart does it first, with the help of the Moldavians, whom he tries to double-cross. Before anyone can say "Bye Bye Harry" for good, confused cops will give chase to bumbling body snatchers, while romantic escapades will provide respite for the stressed plotters. In the end, Ian still isn′t rich – but at least he′s won back the heart of his beloved Emma...

Source: German Films Service & Marketing GmbH
Credits
All Credits
Director:
Robert Young
Screenplay:
Graham Alborough
Director of photography:
Hannes Hubach
Camera operator:
Sebastian Meuschel
Assistant camera:
Johnny Feurer
Production design:
André Fonsny
Sound:
Dirk Bombey
Audio mixing:
Holger Rogge
Casting:
Uwe Bünker
Cast:
Veronica Ferres
Sophie
Til Schweiger
Gantcho
Bela B. Felsenheimer
Roman
Iddo Goldberg
Ian
Joanna Page
Emma
Tim Dutton
Stuart
Production company:
NFP Teleart GmbH & Co. KG (Berlin), No Snow Productions (London), Banana Films (Brüssel), Trigon Productions (Bratislava)
Producer:
Alexander Thies, Gabriela Pfändner
Co-Producer:
Ruth Baumgarten, Jean-Luc Van Damme, Patrik Pašš
Shoot:
04.2005-05.2005: Belgien, Slowakei
Funding:
Medienboard Berlin-Brandenburg GmbH (MBB) (Potsdam), Mitteldeutsche Medienförderung GmbH (MDM) (Leipzig), Hessischer Rundfunk Filmförderung (Frankfurt am Main), Hessen Invest (Frankfurt am Main), Eurimages (Brüssel), Media Programm der EU (Brüssel)
Length:
2617 m, 96 min
Format:
35mm, 1:1,85
Picture/Sound:
Farbe, Dolby Digital
Rating:
FSK-Prüfung: 20.12.2005, 104676, ab 6 Jahre, feiertagsfrei
Screening:
Uraufführung: 15.02.2006, Berlin, IFF;
Kinostart: 30.07.2007
Titles
Originaltitel (GB BE) No Snow
Originaltitel (DE) Liebling, wir graben Harry aus!
Versions
Original

Length:
2617 m, 96 min
Format:
35mm, 1:1,85
Picture/Sound:
Farbe, Dolby Digital
Rating:
FSK-Prüfung: 20.12.2005, 104676, ab 6 Jahre, feiertagsfrei
Screening:
Uraufführung: 15.02.2006, Berlin, IFF;
Kinostart: 30.07.2007