Documentary Dramas
In 1970 a new generation of filmmakers was just preparing to leave the Potsdam-Babelsberg Film Academy and enliven the DEFA Studios with new ideas. Harking back to Neorealism, they championed the "documentary drama" (the German term, "dokumentarischer Spielfilm", was coined by Lothar Warneke), telling tales of daily life in a style that fused fictional and documentary elements. Abandoning the rigid concepts of Socialist Realism with its positive heroes and character types, they focused on portraying individuals with specific problems. This new trend was backed up ideologically by a scholarly paper called "The Subjective Factor in Film". Published by the SED's Party Academy, it was written by Rudolf Jürschik, a graduate of the Film Academy who was later to become Chef-Dramaturg (Artistic Director) of the DEFA Film Studios.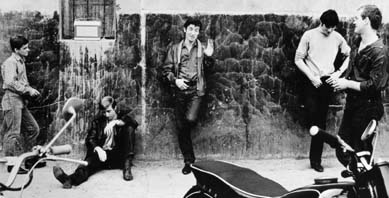 Quelle: DIF, © DEFA-Stiftung
Rolf Römer (2. from left) in "Jahrgang 45" ("Born in '45", 1966)
The role model for this group's "documentary dramas" was Jürgen Böttcher's banned film "Jahrgang 45" ("Born in '45"), shot in the streets of Berlin by cameraman Roland Gräf. In 1968 Gräf manned the camera for Frank Vogel's "Das siebte Jahr" ("The Seventh Year"); in 1969 he shot Herrmann Zschoche's road movie "Weite Straßen – stille Liebe" ("Wide Roads - Quiet Love") and Lothar Warneke's "Dr. med. Sommer II" ("Medical Doctor Sommer the Second"), before turning director in 1970 with "Mein lieber Robinson" ("My Friend Robinson"). All these told contemporary stories without making sweeping political statements.