Conflicts and Bans
On August 13, 1961 the People's Police and People's Army blocked the border to West Berlin and began building the Wall. The DEFA's reaction to the event was unusually swift; before the year was over, shooting had begun on Frank Vogel's "...und deine Liebe auch" ("…and Your Love Too"), the story of two brothers torn apart by Germany's division. Konrad Wolf's "Der geteilte Himmel" ("The Divided Heaven", 1964), after the novel of the same name by Christa Wolf, treated the issue of Germany's division with great artistic sophistication, provoking a heated discussion as to whether the DEFA's films should be "close to the people" (i.e. stylistically conservative) or whether they should attempt to tell stories with modern stylistic devices, a technique attacked as "formalistic".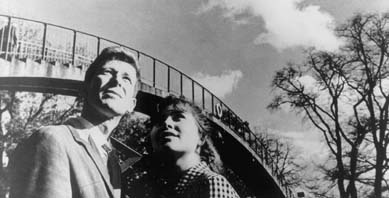 Source: DIF© DEFA-Stiftung
Eberhard Esche and Renate Blume in "Der geteilte Himmel" ("The Divided Heaven", 1964)
Now that the "bleeding wound" of the open western border was closed, intellectuals and artists – especially those who fundamentally approved of socialist ideas – hoped that they would be given more freedom to confront the country's many internal social and political problems. In "Karbid und Sauerampfer" ("Carbide and Sorrel", 1963) Frank Beyer used a picaresque story from the early post-war period to address economic issues. The writer Günther Rücker directed "Die besten Jahre" ("The Best Years", 1965), comparing the high hopes of the "rebuilding generation" with the reality achieved in the GDR. In his directing debut "Lots Weib" ("Lot's Wife", 1964/65) the author Egon Günther used a marital crisis to explore social conflicts. Most of the DEFA's leading directors were also working on new critical films when the government intervened in November 1965. At the 11th Plenum of the Central Committee of the SED – a party congress originally called to discuss economic reforms – party hardliners (including the head of the party, Walter Ulbricht, and Erich Honecker) attacked the new developments in literature (Christa Wolf, Heiner Müller, Wolf Biermann) and film, above all Kurt Maetzig's "Das Kaninchen bin ich" ("I Am the Rabbit"). This adaptation of an unpublished novel by Manfred Bieler, with its critical portrayal of an opportunistic judge, was accused of "skepticism" and "subjectivism".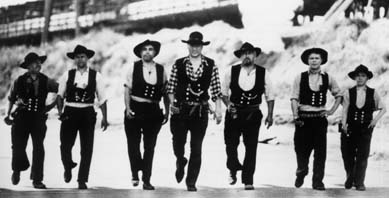 Source: DIF© DEFA-Stiftung – Klaus D. Schwarz
Manfred Krug (middle) in "Spur der Steine" ("The Trace of Stones", 1966)
Nearly all the DEFA's productions for that year were banned in various stages of production: "Berlin um die Ecke" ("Berlin Around the Corner", Gerhard Klein), "Wenn du groß bist, lieber Adam" ("When You're Big, Dear Adam", Egon Günther), "Karla" (Herrmann Zschoche), "Denk bloß nicht, ich heule" ("Don't You Dare Think I'm Crying", Frank Vogel), "Der Frühling braucht Zeit" ("Spring Takes Time", Günter Stahnke) and "Jahrgang 45" ("Born in '45", Jürgen Böttcher). A few months later, Frank Beyer's "Spur der Steine" ("The Trace of Stones"), with Manfred Krug, was even "pulled from the movie theaters" after party-organized protests broke out in an East German theater. It did not matter that "Spur der Steine" was based on a highly successful working-class novel and was earmarked as the GDR's contribution to the film festival in Karlovy Vary. These (and many other) "shelved movies" were shown after the fall of the Berlin Wall in 1990, unfortunately only to be forgotten again. In the aftermath of the party congress the DEFA's management was dismissed, and the careers of a number of filmmakers were destroyed. Stahnke never made an interesting film again, while Beyer was banned to provincial theater and made TV series before being allowed to return to the movies nearly ten years later. Jürgen Böttcher never directed a dramatic film again, becoming an important documentary filmmaker and painter. On August 17, 1966 – one year before making his autobiographical masterpiece "Ich war neunzehn" ("I Was Nineteen") - Konrad Wolf noted: "Assessment of the situation: 8 films will not make it to the screen (Spur der Steine – which we had such high hopes for). Our work in film is facing its greatest catastrophe ever. (…) If all contemporary films are flawed – then something must be wrong with the ideology – compelling logic!"