Germany, revisited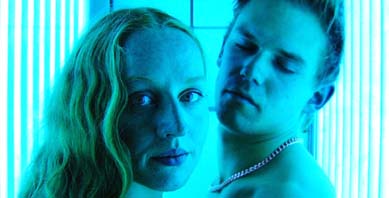 A young woman wants to live like how the others seem to do. Since her imitating doesn't succeed, however, she chooses the most brutal form of appropriating someone else's personality – she kills a person, slipping into the role that is now made free: In his film "Identity Kills" (2003), Sören Voigt not only delivers a work graphically representing the psychology of a person with weak ego-limits, but, in addition, to this an ironic parable of the pluralistic strokes of liberation, that make German cinema finally and once again a new and exciting place for cineastes.
Here, the dust which has laid upon daddy's cinema is brushed off – if necessary with violence, perpetrated for the most part with a certain rather sovereign air of calmness – with a sharpened view, throwing light on the mental state of the nation. The murderous point in "Identity Kills" can indeed be read as a reference to a change in paradigm. For here, constructions of identity, almost always exactly alike, from which the genre variations of the 1980s and 1990s were worked with, no longer seems to strike a chord. When the disheartened heroine in "Identity Kills" slays a dynamic and optimistic person living in her mid-twenties, one can indeed interpret this murder as that of all the young, dynamic and optimistic people living in their mid-twenties, those who in the countless sweetheart comedies of the last two decades, continually run around (or indeed, only the man as well) looking for a meaning to life.
Imitation, Cross-over and New Interests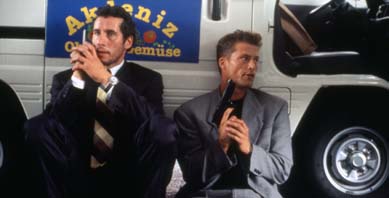 Models that have imbued German cinema with a certain sense of meaning in the 1980s and 1990s are indeed noticeably modest. In imitating American genre models – that is to say, thrillers and specifically comedies – one often imitates at the same time the widely spread views of the world found within them as well. Aspects such as migration, markets changes and globalization which have lead to constant changes in social structure in Germany today are seldom thought of in these models. And instead of reflecting these changing developments in mentality, movie theaters were filled with nostalgic illustrations, in which history is presented as a series of fateful events. Here, a way of being conscious of the country where one lives cannot arise. Of course there have always been filmmakers and others who have crossed over the line, adapting American film genres in such a way as to deal with the current circumstances of Germany today. The early local neighborhood thrillers by Lars Becker or the police and gangster films of Dominik Graf opened a door to a new psycho-economic reality. In his very revealing milieu studies, Jan Schütte tells the story from and about the social periphery; In her films, Monika Treut plays with the models of gender identity, thereby breaking them up. Yet, despite the appearance of these works, in hindsight they appear as scattered research or adventure trips undertaken off and on, and not as contributions leading to the completion of a more pluralistic image of Germany.On the other hand, one can make out in productions taking place over the last couple of years a common and comprehensive interest in social phenomena and the effects they have on the private. They deal equally with political shifts in the system as with falling into a state of dysfunctional inwardness. Whereby, here, it's less about pointing a finger at the social and psychological problem areas than about the untold dramas which happen there.
Well-To-Do Suburbs and Built-in Kitchens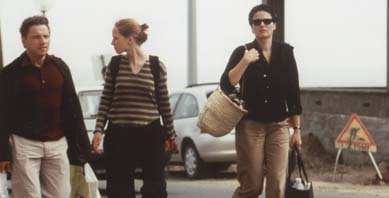 "Die innere Sicherheit" (State I Am In, 2000)
In this regard, one who has definitely set an important new accent over the last couple of years through his work in television is Christian Petzold. Following the difficult production of his drama "Die innere Sicherheit" ("State I Am I", 2000), which was produced for the cinema, eventually being awarded the Deutsch Filmpreis, he went on to deliver two successive TV-hits with "Toter Mann" ("Something to Remind Me", 2002) and "Wolfsburg" ("Wolfsburg, Wolfsburg", 2003).Petzold belongs to that brand of "Autorenkino" filmmakers, who have set their dramas up until now in the prosperous (or previous prosperous) regions of the old Federal Republic – his name, along with Angela Schanelec and Thomas Arslan, is associated with the new Berlin School. Here, urban and transportation planning as well as landscape planning are all linked up with the conflicts of the heroes, opening up in this way a new vista for social contradictions. Hence, the much sought-after ex-terrorist in "State I Am In" hides out in of all places a deserted villa of an industrialist located in the well-to-do suburbs of Hamburg, the fatalistic Film Noir "Something to Remind Me" is set within the optimistically affluent architecture of Stuttgart, and the hit-and-run drama in "Wolfsburg, Wolfsburg" runs it's course in Germany's thoroughly functionalised Motor-City.
From Economic Security to Inner-Strife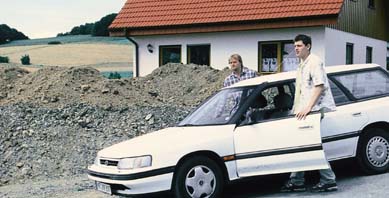 This tying together of spatial representations of economic security with that of inner-strife is frequently discovered in today's young German cinema. This can be seen especially well in Ulrich Köhler's film "Bungalow" (2002), a coming of age story, played out in the rural areas of the German state of Hessia. Here, the various idealized residential worlds of the 1970s, which indeed gives the film it's name, appear less like a home, and family life, which actually should be rooted in there, does not even exist. One searches in vain for an idyll in today's young German cinema. This has less to do with an ideological rejection of bourgeois life schemes as with having a healthy mistrust against all types of private communities. The experience of these young "Autorenkino" filmmakers with the social alternative models of the 1968-Generation may have strengthened the realization, that even anti-bourgeois notions provide no guarantee for living together harmoniously. One who has achieved a certain mastery in seeing through couples, families and cliques is Stefan Krohmer. In the film "Ende der Saison" ("End of the Season", 2001), he lets a mother, ill with cancer, and her daughter start one last battle. The dialogue reveals a tapestry of woven dependencies and aversions without ever giving the audience the satisfaction of moral unambiguity. That no generally valid private systems of security are also to be found in alternative structures is exemplified by Krohmer in his film "Sie haben Knut" ("They've Got Knut", 2003), which portrays a whole new generation. In the film, set in the early 1980s, the protagonist is held in a ski lodge by a group of politically motivated characters. It is by no means a coincidence, that the resulting self-destruction, where their tearing themselves to pieces takes place between ski gymnastics and expressions of solidarity, appears very similar to that which happens within the clan of journalists in Krohmer's work "Familienkreise" (2003). In the film, this silent humiliation, which a foreign correspondent returning home allows to spread among his loved ones, is actually played out with Bonn of all places serving as background. This can indeed be read as a reference to an underlying history of mentality: The patriarchs of the old Federal Republic are still quite at work and raging.
Areas of Affluence and Problem Areas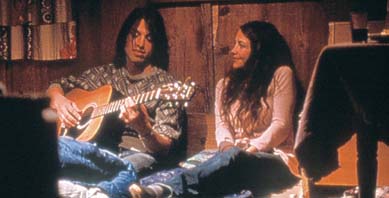 "Sie haben Knut" (They've Got Knut, 2003)
German cinema is undergoing a radical change; and this in a number of respects. For one thing, new areas are actually being opened up –like, for example, small and "ill" existential struggles – aspects which previously would have been sorted out, being deemed as too unattractive to illuminate; for another thing, known sociotopes are presented in a new light. The metropolitan panorama, normally presented as always the same, now becomes replaced by unknown points of view. And it also allows for new stories, in which immigrants appear less as extras full of problems than as veritable film heroes, in this way providing new perspectives on Berlin or Hamburg. In addition, new storytelling strategies are developed, reflecting circumstances of today, showing that Germany is a transit country.Indeed, many refugee dramas lead us over borders – and take us back again. Often they ultimately end up in a region, in which the topography of German cinema of the 1990s has hardly played a role: the new Federal states of eastern Germany. Yet, what may appear at first as superficially unspectacular regions of western Germany are also finally being checked out for their growing narrative value: unglamorous affluent areas make an ideal setting for tracking down the signs of the old Federal Republic. And so right now just beyond such huge hits as "Lola rennt" ("Run, Lola, Run", 1998) and "Good bye, Lenin" (2003), new discoveries are being made, showing that exciting new impulses in German cinema come from the periphery – ready to take risks, expressing the joy for telling new stories, and having the sure feel of what is symptomatic today.  
Source: Christian Buß, Birgit Glombitza (Ed.): "Deutschland, revisited". (Catalogue of the similarly titled Retrospective in Kommunalen Kino Metropolis May - July 2004). Hamburg: Kinemathek Hamburg e.V., 2004.
For the film series "Deutschland, revisited", screened in the Hamburg Metropolis cinema between May and July 2004, the journalists Birgit Glombitza and Christian Buß presented 22 German film and television productions that were made over the last five years. The texts are from the accompanying catalogue of the same title. The catalogue is there to provide some orientation through the film world, which is at times often confusing in it's style and content, but whose various different protagonists exhibit an infallible sense for the phenomena of today's world.