Current Trends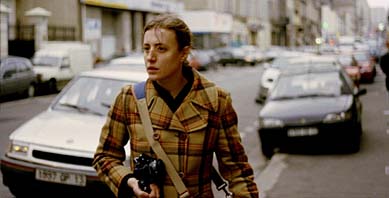 Source: Peripher, DIF, © R. Vorschneider
In his famous "Introduction to a True History of the Cinema", Jean-Luc Godard spoke of editing as being "utmost important". Here Godard was not only aiming at the role of editing in film making, but also at its relation to the speaking and writing about film, to the discourse of cinema. "One always has to look twice. That's what I mean by editing: simply connecting something. Here lies the incredible power of images and of the sound which belongs to them, or of the sound and the image which belongs to it. All that, their geology, their geography, comprises in my opinion film history, and it remains invisible. Better if it's not shown, it's said." Cinema is a place of connections; of making connections between separate images, between images and sounds, between the public and the screen, and finally between different films in their demarcation and reciprocity to each other.

In this regard, as Frieda Grafe wrote in 1995: "In today's European cinema, one sees nothing, when one doesn't also think about its American past". Therefore it seems rather foolhardy to try and describe developments in current German cinema in a fully adequate way: not only because today's German cinema is currently undergoing more changes than it has over the last twenty years, but also because such a description means first of all cutting connections. For to describe specific aspects of current developments means making a choice – a choice which is presented here under the title of "Current Trends In German Films", and whose spotlights should be successively extended. The aim here is to provide a dynamic and continuing survey, which – in order to ensure the widest diversity of possible perspectives – shall be conducted by guest authors.
Awards and Recognition
Source: Timebandits, DIF, © Wüste Film, Foto: Kerstin Stelter
To begin this discussion concerning actual trends, it is important to respond to what is certainly its most obvious feature: its success. Already in 2003, there was plenty of room for optimism. "This year the German film industry has internationally more to celebrate than ever before" reported German news agency dpa, not only making reference to Caroline Link's Oscar for "Nirgendwo in Afrika" ("Nowhere In Africa"). Also gaining international recognition in 2003 was Katja Riemann's award in Venice, where she was named best actress for her role in "Rosenstraße", the triumph of "Good Bye, Lenin!" at the Europäischer Filmpreis or the coup of Dito Tsintsadze's drama "Schussangst", which was the first German film in the whole 51 year history of the International Film Festival of San Sebastián to receive the Golden Shell Award for best feature. This inspiring story continued with spectacular success in 2004 with Fatih Akin's film "Gegen die Wand" ("Head On"). Akin's fourth feature was the first German entry to be awarded the Golden Bear at the Berlin International Film Festival after eighteen years. This was followed by the Deutsche Filmpreis and finally – in direct succession to "Good Bye, Lenin!" – the Europäische Filmpreis. Indeed, during the award celebrations in Barcelona in December 2004, Akin also received the audience award for best director, while Daniel Brühl received the audience award for best actor for his performance in the film "Was nützt die Liebe in Gedanken" ("Love In Thoughts"). Also receiving wide international recognition was the German-Austrian co-production "Die fetten Jahre sind vorbei" ("The Edukators") by film director Hans Weingartner, when it became the first German film in eleven years to enter the competition in Cannes. Likewise, an invitation to Cannes was also received by Klaus Hüttmann, who presented his short film "Der Schwimmer" ("The Swimmer") in the competition, while Angela Schanelec's "Marseille" was screened in the section "Un Certain Regard".
Goodbye, Valley of Sorrows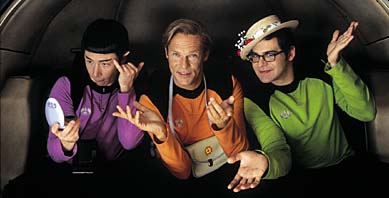 Source: Constantin, DIF, © herbX film / JAT Jürgen Olczyk
"Dreamship Surprise – Period 1" (2004)
Yet, unlike last year, these awards have been followed up by further successes. While cinema operators in 2003 still had little reason to celebrate, having to cope with a dramatic decline in ticket sales, the year 2004 saw new positive developments. Indeed, the film industry witnessed an increase of 10% in the overall number of tickets sold. Johannes Klingsporn, Chief Manager of the Association of Film Distributors spoke of "one of the best years of the last decade". In turn, Peter Dinges, Board Member of the German Federal Film Board (FFA) praised "the quality of German films" making the point: "In regard to the economic situation, the slack period of the last few years has definitely been overcome".

Indeed, by the end of the year, out of the Top Ten films that were screened in Germany in 2004, three out of the five most successful films were local productions. Claiming first place was Michael "Bully" Herbig's film "(T)Raumschiff Surprise – Periode 1" ("Dreamship Surprise – Period 1") with over nine million admissions sold, thereby even beating "Harry Potter and the Prisoner of Askaban", which was followed by two other German productions. The comic ensemble revolving around Otto Waalkes in the film "7 Zwerge – Männer allein im Wald" ("Seven Dwarves") reached an audience of over six million, while Oliver Hirschbiegel's controversial history drama "Der Untergang" ("The Downfall") had an audience of over four million. Children's films also acquired a growing audience with such films as "Lauras Stern" ("Laura's Star"), "Bibi Blocksberg und das Geheimnis der blauen Eulen"("Bibi Blocksberg and the Secret of the Blue Owls"), and "Sams in Gefahr" ("My Magical Friend Sams"), each respectively reaching an audience of over one million. Goodbye, Valley of Sorrows: Alone in the first nine months of this year, the FFA was able to register an audience of 23.5 million for German productions. This means a market share of almost 21%: the best results ever achieved since the FFA began collecting such data.
One Beginning - Times Five
Regarding all these awards and figures, five developments stand out as being particularly significant for the current success of German cinema, and which therefore should be highlighted first in the "Current Trends":

Under the title "From the Small Screen to the Big Screen" ("Vom Bildschirm auf die Leinwand"), Rainer Dick takes a close look at "German film comedy at the beginning of the 21st century". Confronting the theme "Germany's New Children's Cinema" ("Der neue deutsche Kinderfilm"), Katrin Hoffmann surveys new developments. In "Under the Rubble of Pop Culture" ("Unter den Trümmern der Popkultur"), Christian Buß looks for manifestations of "Youth in German cinema". Recalling the film "Go, Trabi, Go", Ralf Schenk dwells into the GDR past, the time of the Wende, as well as the post-Wende period in German film from 1990 to 2005. The next contribution shortly to be made available in the section "Current Trends in German Cinema" will focus on the theme of national history being a newly rediscovered topic in German cinema.