Ulrich Noethen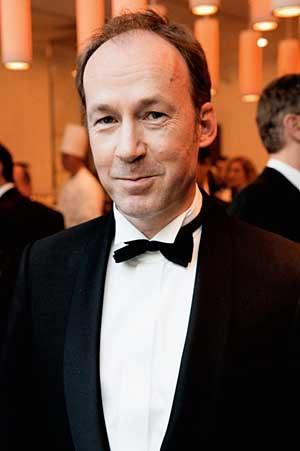 Quelle und © 2010, Florian Liedel / Deutsche Filmakademie
Ulrich Noethen at a reception in the context of the Deutsche Filmpreis 2010
Biography
Ulrich Noethen was born on November 18, 1959, as Ulrich Schmidt in Munich. After attending actor's training at Stuttgart's Hochschule für darstellende Kunst he became a cast member at theatres in Freiburg (Breisgau), Köln and Berlin from 1985 on. After Berlin's Stattliche Bühnen were closed down, Noethen starred in the TV series "Die Partner" (1994-1995) and was seen in several TV movies like "Frau Bu lacht" (1996).
Later, Noethen also appeared in leading roles in movie productions. He played Harry Frommermann in "Comedian Harmonists" (1997) and received the Deutsche Filmpreis as well as the Bayerische Filmpreis for his performance, and he was seen as Kurt Tucholsky in "Gripsholm" (2000). Noethen also played the dreamy umbrella constructor Bruno Taschenbier in "Das Sams" ("The Slurb", 2001) and Dr. Johann "Justus" Bökk in the adaptation of Erich Kästner's children's novel "Das fliegende Klassenzimmer" ("The Flying Classroom", 2003).
He played Heinrich Himmler twice, in the elaborate "Der Untergang" ("Downfall", 2005) and in the Hitler-parody "Mein Führer" ("My Führer", 2007), and in two repeatedly awarded productions he appeared as the husband of Katja Riemann: the tragicomical family-drama "Das wahre Leben" ("Bumm! - Your Family, the Battlefield", 2006) and "Ein fliehendes Pferd" ("Runaway Horse", 2007) after the novel by Martin Walser. In the drama "Schattenwelt" ("Long Shadows") he appeared as a former terrorist of the RAF.
Ulrich Noethen also played some prominent roles in the TV productions "Die Luftbrücke" (2005) and "Teufelsbraten" (2007). In the TV movies about "Kommissar Süden" he played the title role.
He then starred in a row of high-profile TV productions: the comedy "Lügen haben linke Hände" (2011), the romance "Von Mäusen und Lügen" (2011), the biopic "Der Mann mit dem Fagott" (2011) and the acclaimed thriller "Das unsichtbare Mädchen" (2011). On the big screen, he was seen as a demanding stage director who pushes a young actress to her limits in Christian Schwochow's drama "Die Unberührbare" (2010/2011), and in the Spring of 2012, he reprised his role as the shy Bruno Taschenbier for "Sams im Glück".