Antje Starost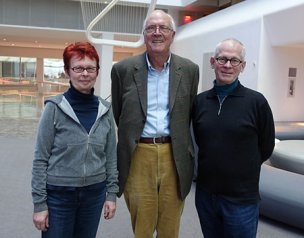 Source: Barnsteiner Film, DIF
Antje Starost, Helmuth Caspar von Moltke, Hans Helmut Grotjahn (from left to right) ("Geschichte einer Liebe - Freya", 2016)
Biography
Antje Starost was born in Berlin in 1950. She studied education science with a focus on media in Berlin, and taught at the FU Berlin after her graduation. In 1975, she founded a media centre in Berlin and started filmmaking courses for teenagers from troubled backgrounds.
In 1978, Starost enrolled at the Deutsche Film- und Fernsehakademie Berlin (dffb). Her graduation feature "Marika und Caterina" (1979-1981) aired on the ZDF network in 1981. Already in 1980, she founded her company Antje Starost Film Produktion, through which she made all her following works. All those films were made in collaboration with cinematographer, writer and director Hans Helmut Grotjahn, with whom she has been working since the mid-1970s.
The duo's most memorable documentaries include "Wurlitzer" oder "Die Erfindung der Gegenwart" (1985), "Chaupi Mundi - Die Mitte der Welt" (1992), "Der Diplomat" (1994) and the multiple-award-winning "7 oder Warum ich auf der Welt bin" (2010).
In 2009, Starost and Grotjahn began to work on "Geschichte einer Liebe - Freya", a documentary about the love and life story of Freya von Moltke (1911-2010) and Helmuth James Graf von Moltke (1907-1945), who was sentenced to death by the Nazis for his work in the resistance. After seven years in production, the film premiered at the 2016 Hofer Filmtage. It gathered much critical acclaim and was released theatrically in April 2017.
Filmography
2016
Geschichte einer Liebe - Freya
Director, Screenplay, Sound, Producer
2010
7 oder Warum ich auf der Welt bin
Director, Screenplay, Producer
1994
Der Diplomat
Director, Director of photography, Producer
1991/1992
Chaupi Mundi - Die Mitte der Welt
Director, Director of photography, Producer
1989
Dem
Director
1985
Schuhmann
Director, Screenplay, Director of photography, Editing
1983-1985
Wurlitzer oder Die Erfindung der Gegenwartx
Director, Screenplay, Director of photography, Producer
1979-1981
Marika und Caterina
Director